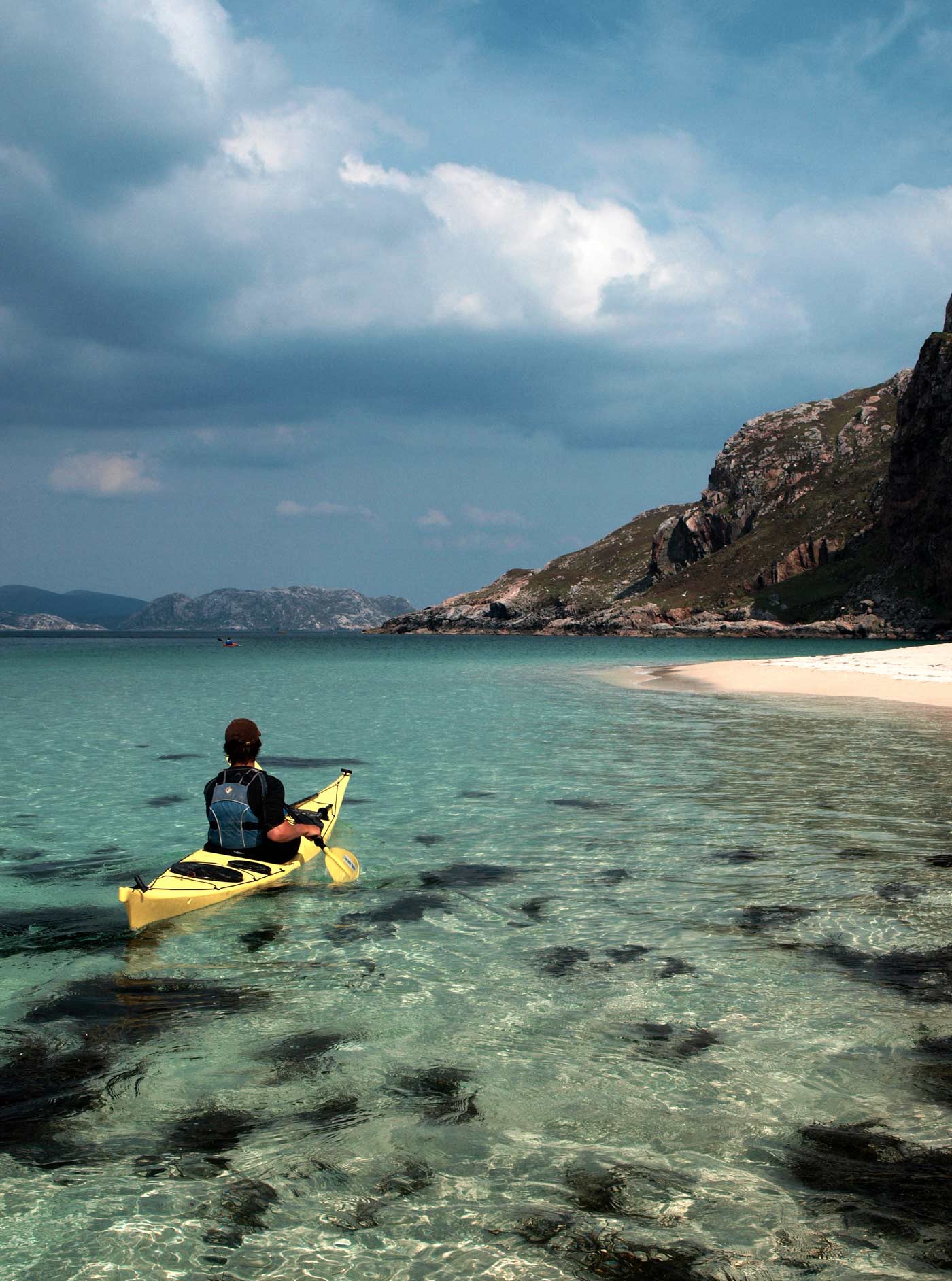 Our Trips Explained
We offer a wide variety of trip types and booking options, depending on trip, that mean you are sure to be able to find an adventure to suit your ambitions, and your budget. This page will tell you all about the available trip types and booking options. In addition to sea kayaking we also offer multi-activity tours (coasteering, surfing, stand-up paddleboarding, snorkelling) via our sister business Isle Of Barra Surf & Coastal Adventures. Click the link or contact us for more information.
Different Trip Types
We have a number of different trip types to choose from, each of which offers a unique experience:
Lodge Based Tours
Wild Camping Tours
Expedition Journeys
Tall Ship-Based Kayak Tours
Please take the time to read about our different trip types, below, to see which trips best suits you. Your safety and enjoyment is our priority, and we never, ever, 'risk it!' Guides are equipped with all necessary equipment including first aid kits, tow ropes, flares, and VHF radios. We hold current First Aid certificates and guides are qualified instructors certified by the British Canoe Union. All our guides are highly experienced and are self-motivated to make every tour as memorable as possible. With local knowledge of the regions they are paddling in, and a good understanding of wildlife, they will use their skill and judgement to make the best of every day. On camping trips their experience of living and catering in the outdoors means that meals are way beyond the image of 'ready to eat camping food'!
Fully Inclusive, Self-Catering, or Kayak Only Options
We may offer up to three different booking options on each trip, depending on the type of trip.
All inclusive Unwind and enjoy a holiday you will always remember. Soak up the experience of sea kayaking amongst stunning, wild remote islands. Enjoy wonderful freshly prepared food and good company. Relax in our lovely handpicked accommodation, or enjoy the freedom of camping. Please note one our 'Magic' trips we cater for three of the six evening meals, and for six breakfasts and lunches.
Self cater means we organise all your adventures and accommodation, and you arrange your own catering.
Kayak only is for those on a budget who wsih to arrange their own stay. We will provide you with all the adventures you need, and you arrange your own food and accommodation.
Our individual trip pages and booking forms will make clear which options are available on each trip.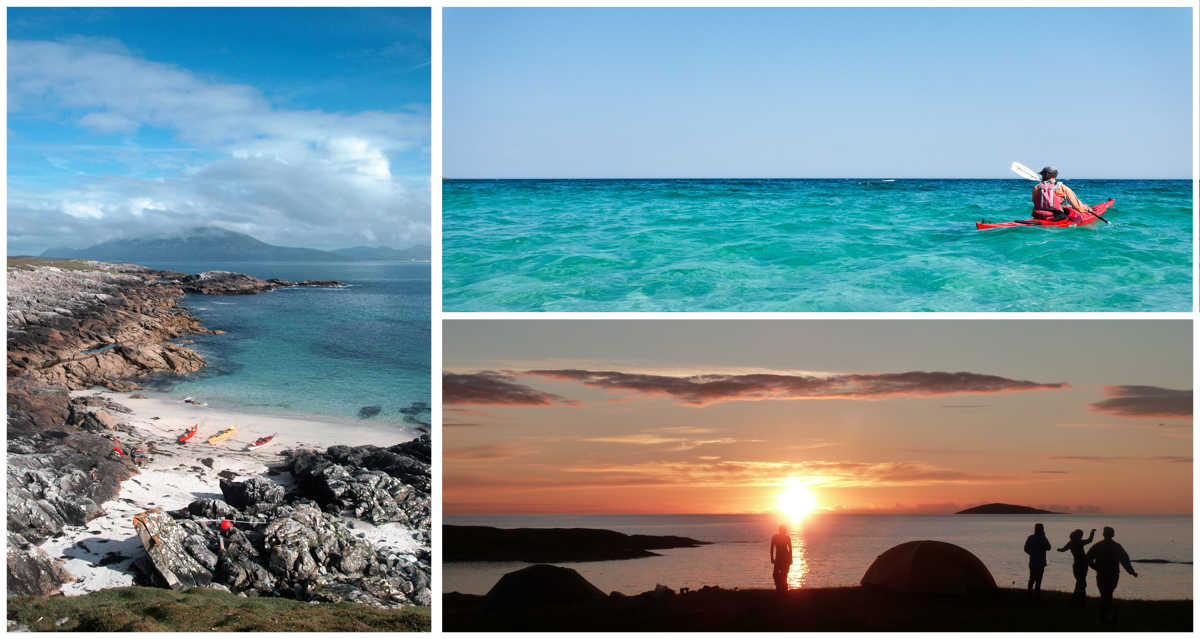 Lodge Based Tours
Our Lodge based tours allow you to enjoy your kayaking and mixing it with the best of comforts. Each day we will set off to explore these stunning islands. After a day of salt-air and kayaking, we will return to our warm, welcoming and comfortable accommodation where hot showers, wonderful food and comfortable beds are waiting. We offer a variety of paddling destinations in the Hebrides. These tours are suitable for all levels of paddling experience. We would particularly recommend these trips to new paddlers.
On our trips we use twin and double bedrooms. We do expect guests travelling on their own to share twin rooms (same sex). We would need notice if this is unsuitable, and we will do our best to source a single room.
Single Travellers Covid Regs update...In terms of accommodation the price is for 2 people sharing a twin room. We are still waiting to hear about the Covid regulations for the summer, however if rooms can only be used by single family bubbles we would need to add a single use room surcharge of £95 for the week. (This is a 50-50 split between ourselves and the single occupant for a 2 person room for the week)
Wild Camping Tours
Imagine landing your kayak on a stunning beach on some distant island and setting up camp for the night. Imagine sitting round a driftwood fire as night draws in. You hear the call of distant seals and the excited chatter of oystercatchers. There is no better way of seeing wildlife than from the cockpit of a kayak, and no better time to see wildlife than early morning and late evening. On all our camping trips we will travel as a self-sufficient group, carrying all our food and equipment with us, setting off to a new wild campsite each day. However being self-sufficient does not mean compromising on comfort. We load as much fresh food as possible, so at the end of the day there is always good food and a glass of wine and a dram to finish off a great day out.To get the best out of these tours we would suggest at least a day of kayaking experience. Wild Barra is perhaps the most suited to people new to the sport, as it is half accommodation based and half camping based.Our 'Wild camping tours' are in more protected areas. It should be remembered when booking that all these tours are six nights wild camping with the exception of the aforementioned Wild Barra.
Sea Kayaking Journeys
Clearwater Paddling is proud to offer epic adventures, travelling through some of Scotland's wildest seascapes. To get the most out of these stunning Journey tours paddlers should be happy kayaking in a larger swell and making longer crossings. The tours are suited to paddlers who have at least 14 days experience of sea kayaking in a variety of conditions. Like all our tours if the conditions are not safe, then we will not paddle.
Tall Ship Based Kayak Tours
Clearwater Paddling - Mothership sea kayak journeys. These unique adventures access the places other kayak trips cannot reach... in style with comfortable live-aboard accommodation.

Multi Activity Tours
Can't decide quite what you want, well why not do it all! On our Multi activity tours we can offer a whole range of coastal adventures. On calm sunny days head out and enjoy some fabulous sea kayaking and take the unique opportunity to snorkel amongst seals. When the surf picks up join our surf instructor for surf lessons and the ultimate coastal adventure, coasteering. So you really can enjoy the best of all worlds.
"I did the 6 days kayaking trip 'Hebridean Journey' with Clearwater Paddling and it fulfilled all its promises. Great scenery, lots of wildlife, the best kayaking Scotland has to offer."
Wilco