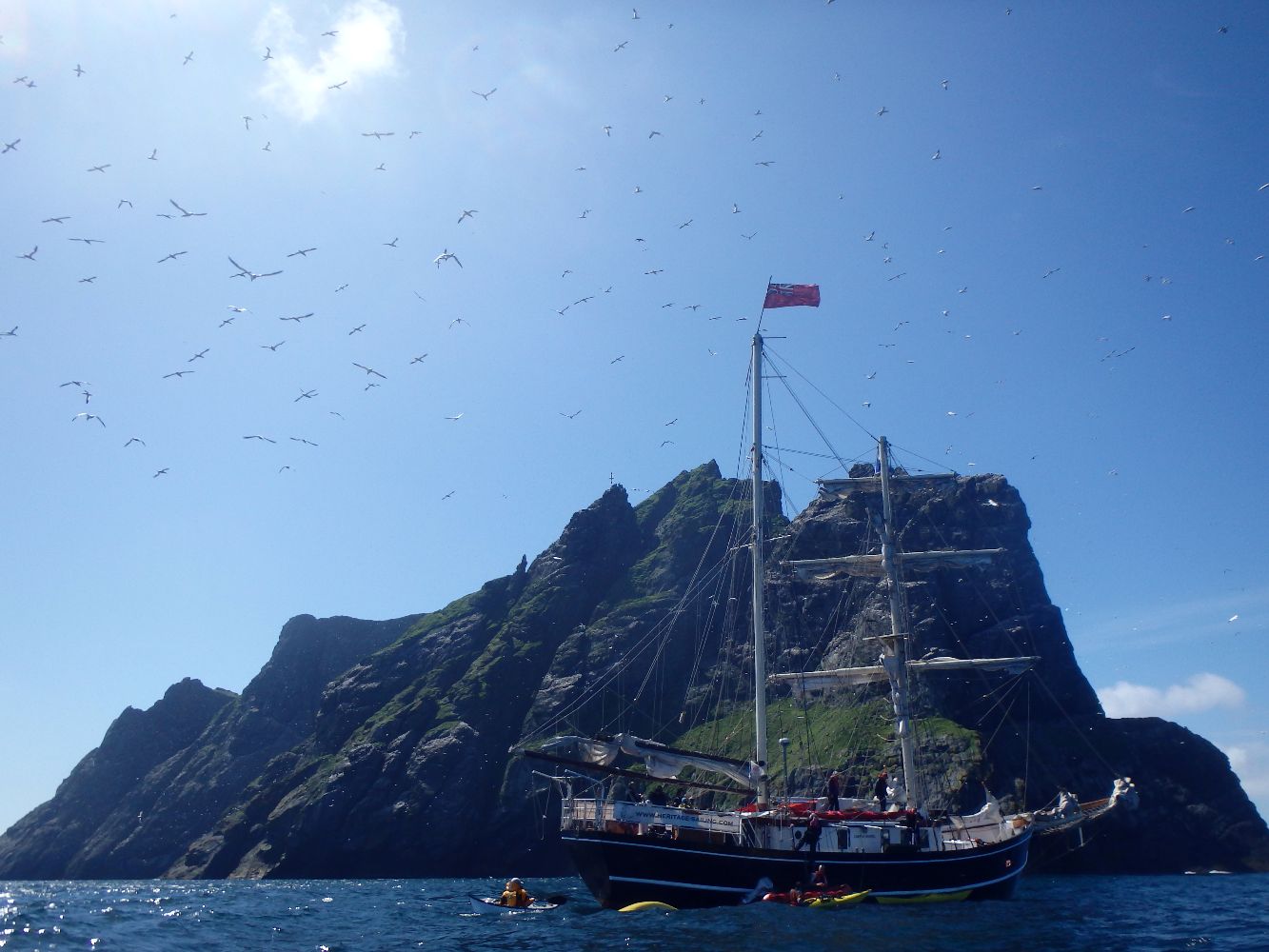 Mothership kayak trip - Tall Ship to St. Kilda
Tall Ship Based Kayak Trips
The mere mention of the St Kilda archipelago can fire a sea kayaker's imagination – remote and distant islands set deep in the Atlantic, far off the Outer Hebrides with the highest cliffs in Britain, myriad caves and arches. The surrounding ocean is rich with marine life while the cliffs support thousands of birds. The human connection to this isolated landscape is equally fascinating abounding with prehistoric remains and of course the more recent village with its evocative abandoned houses.
The experience of sea kayaking beneath the immense cliffs with the teeming bird life soaring above will leave you speechless. There will be a powerful sense of kayaking on the far western fringe of Europe in an area that few have been fortunate enough to venture to.
Clearwater Paddling offers a unique once in a lifetime sea kayaking, and sailing experience aboard the Brigantine tall ship "Lady of Avenel". We will sail from Barra to St Kilda, where we will anchor in Village Bay. With the ship in support we will explore the magnificent islands of the St Kilda island group. The exact itinerary will be determined by the weather, but we hope that will be able to spend two or three days in the vicinity of the island group. This will enable us to explore the main island of Hirta where the St Kilda population lived and kayak around the islands.In addition to paddling St Kilda we hope to also have time to kayak the beautiful Monach Islands with the worlds biggest grey seal colony..
Clearwater Paddling offer this unique sea kayaking and sailing experience aboard the Brigantine tall ship "Lady of Avenel". The Lady of Avenel offers a comfortable base from which we will set out each day for our kayaking explorations. Accommodation is in twin cabins, with hot showers and flush toilets aboard. The catering will be to the high Clearwater Paddling standard and meals will be taken in the comfortable and well appointed saloon.
We will need eight bookings for this trip to run, so please keep this in mind if you thinking of joining the tour. We are happy to take provisional bookings for this trip.
The Lady of Avenel will be captained by Stefan Fritz with two crew. You are more than welcome to become involved in crewing, and experience tall ship sailing at first hand, literally learning the ropes, taking responsibility on the helm, and with harnesses, climbing high into the rigging. There will be no compulsion to work the ropes, but being fully involved will certainly add a new and enjoyable dimension to your sea kayaking holiday.
To view photos of the ship please visit
How to Book
Available dates for this trip are shown below. Our trips are normally fully inclusive but some of our trips are available as self catering and/or kayaking-only basis. For our lodge-based trips the kayaking only option means you are responsible for all your meals and accommodation. For wild-camping trips you will be responsible for providing and cooking your own meals. Please contact us if you require more information.
Dates and prices

Dates
Price
Availability
Book

2024: 09 Jun - 15 Jun

All Inclusive: £1750.00

8
spaces left.
*Note: If spaces are limited on a given date and you wish to book with one extra person beyond the available spaces please do call us before booking, we may be able to accommodate you.
Click the icon below to download the dossier for this trip.
Please download, complete and send back to us 60 days before your trip starts.
| | |
| --- | --- |
| | Click the thumbnail to view a gallery for this trip. |